"It's amazing the number of great people I have in my life that I would have never met if I didn't own a Jeep."
We first met Lonnie on a trail run to the Tillamook National Forest. His orange Land Rover Discovery II broke down right in front of us on an incredibly steep hill. We helped him get down the hill, and out of the forest. The next day or so, he reached out to invite us to attend an off-road driving class taught by Bill Burke. We jumped at the chance to learn how to safely drive, and recover stuck vehicles, in soft sand and dunes for a couple of days with Bill. If you don't know who Bill Burke is, suffice it to say that he is one of the most respected off-pavement driving instructors in America, if not the world. His experience includes equipment recovery in the US Army and representing the US in the Camel Trophy in 1991. This, plus 30 years of off-road driving and recovery instruction made the chance to learn from him an exciting proposition.
The drive to meet the group in Christmas Valley, OR, was pleasant, if long. Snort is NOT fast, in any situation, and we took it easy over the pass to central Oregon. We were excited to turn off pavement just past Brothers, and even the hour or so of rutted, dusty road we followed to get to the Lost Forest and the Christmas Valley Sand Dunes, outside Christmas Valley, were kind of fun. We pulled into camp to find nearly everyone had arrived, including Lonnie. As we set up camp, Bill pulled into camp, with Henry, his standard poodle. We pulled our chairs around the camp fire and told stories for a couple of hours, getting to know the other 8 people in the class. Some had spent the 3 days previous in another class with Bill, and already knew something about each other. They welcomed the few of us that had just joined the group and we quickly fit right into the banter. Bill set a start time for the next morning, late enough to enjoy our coffee, and everyone headed for bed.
They say we sleep better in the cold, so we must have slept better than ever because it was really cold that night. It did make the hot coffee taste especially good the next morning though. It was cold enough for Snort to get really grumpy when I went to fire up the engine. Bill asked for the details on the Jeep, as well as the details on the other newcomer's Jeep. After hearing what the new vehicles to the group were, he was sure we would have no problems and that someone would get stuck for learning moments through the day. We spent the first hour covering how to properly use a winch. Once we covered that, we got into our vehicles and headed out into the dunes. We started by cruising around, climbing some small rises and dunes. I tested which gear worked best, and tried driving in, and avoiding, the tracks of the trucks in front of us. Then, we saw Bill's Defender drop over the top of a dune. We watched the next couple of vehicles drop their noses down the slope and disappear. Then, it was our turn. Jen was not impressed and got skittish, but toughed it out as she could see everyone that had gone before us out in the distance. I eased over the edge in 1st gear and let it idle down the hill. The flat floor between dunes comes at you fast when the face is that steep, but we eased off the slope without using the breaks, or skidding. Jen started breathing again as the rear wheels rolled onto the hard pack.
We spent the rest of the day practicing climbing, turning, and keeping our momentum on the variety of slopes that the dunes offer. Occasionally, someone would try something that didn't work, then we would all gather around for a learning opportunity on vehicle recovery. Sometimes, we used the winch on the stuck vehicle to get them out. Other times, we used sand ladders or a jack to get them out. Still other times, we used Bill's dynamic recovery rope. This is a synthetic rope about as big around as my wrist, that is hooked to the stuck vehicle and to a vehicle that will "tow" it out. The rope stretches up to 30% of it's length so it doesn't shock load either vehicle. Jen got a chance to try this recovering Bill's Defender after he got it stuck. While she could feel it pull, it was always smooth and never slammed. That night, we again sat around the campfire telling stories and re-hashing the day.
The second morning started much as the first, cold. It warmed up quickly with the sun though, and Bill had a surprise for us. He has an onboard welder that uses the alternator to generate power. A handful of us made a few passes with the sticks he carries. While different than most other stick welders I've used, a little experience would get you to welding acceptably to get out of the bush and back to civilization. It was definitely interesting. We then got to see everything Bill carries in his Land Rover. He carries a lot of gear, and most of it is what anyone would need on the trail. Some of it was due to him leading groups and teaching classes, but most of it was recovery gear or tools & parts that everyone should carry. At this point, some of the group had to leave, with those that remained heading into the dunes, this time with Jen at the wheel. Bill was kind and didn't take us over any big steep drops with her at the wheel. She did get to experience one small drop though, and did it well. We then played around a bit more, including driving as far as we could up a steep face then shifting into reverse as quickly as possible and backing down the hill in gear with no brakes nor throttle. Again, Jen did admirably.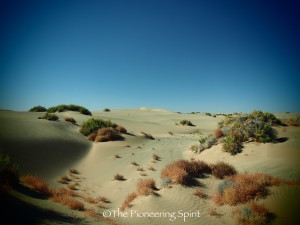 With only Lonnie and us left, we decided we would take the tent trailer we were camping in out into the dunes to see what it what it is like to tow something through the soft sand. Jen was still at the wheel when Bill took us up a diabolical incline, complete with a turn to get over a berm. Of course, the trailer got stuck, and Jen had to back it down the hill about 200-250 yards. Jen has never been comfortable backing a trailer, though she did great here. Afterward, I jumped in and tried the same hill, only getting up it on my 3rd try, after swinging wide to find the right line. We even tried a steep downhill with the trailer, and had no problems. Bill did say that it was tougher with this trailer, as it has smaller and narrower tires than what we will have on our trip.
Two days learning how to better drive our Jeep was a blast. We both learned a lot from Bill Burke, and had fun doing it. As we drove out of camp, we discussed what we each took away from the previous couple of days. We were both glad to have the opportunity to drive the Jeep in soft sand with enough people around to help us should we get stuck. We both learned a lot about recovering a stuck vehicle, and doing that safely. I learned that we did almost everything wrong when we helped Lonnie get off that steep hill. Jen appreciated the opportunity to use a Pull Pal, a winch anchor used when you don't have a tree or rock to anchor to. While she never did come to enjoy the steep descents, she did like Bill's honesty when he told her that almost any sand dune can be descended as long as it is not vertical. Bill Burke not only taught us how to recover a stuck vehicle, he constantly reminded us on how to do it safely. His teaching style is accessible by just about anyone and he takes the time to make sure everyone has a grasp on the topic at hand. All in all, Bill is a great teacher and someone that we were glad to spend some time with outside of the class, as his experiences translate to good stories that he tells expertly. We came away from the class with the piece of mind that we now know what it will take to drive through the sandy terrain we are sure to find on our African adventure.