During the last year of our planning, Pronghorn Overland Gear has been one of our most excited supporters. They committed to work with us early in the process, and are always excited to hear about what we are working on to get this trip rolling. Since we approached them, they have wanted us to take a prototype of their rear bumper system on our adventure. We have even gotten to work with them in the development process, providing real world experience based answers to design questions. We underestimated the time it would take to get a product like this from concept to having a completed version in hand. It is taking much longer than we expected, but they are close to getting the prototype fabricated, machining the first parts at the time of publication. To many, this seems over the top. While it may seem that way if you have never thought about an expedition bumper, and all the functionality that needs to be built into one, Pronghorn is doing an amazing job of designing a bumper that will provide us more than simple collision protection. This is a bumper system, and I don't use that word lightly, it is a multifunctional addition to our Jeep. It will allow for carrying two spare tires, each up to 37″, or two cargo trays, each holding four 5 gallon fuel cans and a compressed air tank, or a combination of one of each a spare tire and a cargo tray. Not only that, but the spare tire carrier will allow anyone to drop the tire to the ground before removing it from the carrier, reducing the need to muscle a 100 lb tire down from 5 feet in the air. It also is spring assisted, so when dropping, or lifting the spare tire, all but approximately 20 lbs are carried by the spring. This is a critical concern should Jen have to change a tire without my help! Lastly, each of these options has to swing out of the way to allow access to the tailgate of the Jeep. All this amazing functionality, none of which is available to Jeep owners from any of their competitors, needs to be built to withstand the harshest roads on the planet. It will have to survive hundreds of miles of washboard roads, potholed pavement, and eroded and uneven dirt trails that Africa offers as main thoroughfares. Neither we, nor Pronghorn, can afford for this system to succumb to vibration, massive swings from side to side, and quick stops to avoid wildlife and pedestrians. While we are eager to get started, we are willing to wait just a little bit longer to gain the functionality of this bumper system.
While the extra waiting has been frustrating at times, we have appreciated it too. We get to spend more time with family and friends. We were able to travel to Spokane for our nephew's 4th birthday, meet up with some old school friends, and just spend time with friends and family. We also took the opportunity to go to the Northwest Overland Rally in Plain, Washington. We met fellow travelers and compared notes on how we prepare for our trips. We also learned that our plan for bringing a secondhand South African camp trailer back to the US when we finish our trip was NOT going to work. If we were lucky, we would get it into the country and then never get it licensed nor insured. We were more likely to see it confiscated at the port at customs, never to see it again. We are glad we learned this before we were on that dock, with a trailer we wouldn't get to see again. Since the Rally had many trailer manufacturers represented, we decided to check around and see what our options were. After talking to a variety of trailer makers, we found only one that met our strict criteria, and they have a 2-3 year wait for trailers. We also reached out to the company that has just begun importing the South African trailer we originally wanted, to see what we could work out on getting one of their trailers, cleared for US Import, in South Africa.
We left the Rally, and with no commitments pulling us directly back "home," we decided to meander our way through central Washington. We took a few days getting to Pendleton, and were able to see a high school friend of mine along the way. While in Pendleton, we got an Email from the trailer manufacturer that has a 2-3 year wait that they had a used trailer for sale. They let us know the owner had left it with them in Bellingham and it was available for us to come see. We decided to head to Bellingham the next day.
On a side note, the day before we had noticed that the gauge measuring exhaust temperature wasn't working correctly. Then, while in Pendleton, we noticed that the radiator fan was always on when the key was on, even when the engine was cool. On our way out of Pendleton, we found that the air conditioning was not working. None of this prepared us for the loud BANG and screaming noise we heard just out of Ellensburg, Washington though. It happened right at the off ramp for a viewpoint, so we pulled off and the screaming stopped as we slowed down. We opened the hood and saw nothing leaking in the engine nor under it. We decided to limp down into Ellengsburg and stop somewhere to let it cool down to check the radiator. As we pulled out of the viewpoint, the screaming started, but only when I could see our boost gauge come up. We had blown the turbo! I coasted down the hill towards Ellensburg, and went as fast as I could without engaging the turbo the rest of the way to the Jeep/Dodge dealership. We managed 45 MPH in the shoulder all the way to the dealership. While the guys in the shop were excited to see a diesel Jeep, they were bummed and not sure what to do about our blown turbo. It was Wednesday before the weekend of The 4th of July and they didn't know when they could get the Jeep in the shop, or what they would find when they got to working on it. We pulled over to the KOA and set up camp. After limping the Jeep back to the dealership bright and early the next morning, we spent the day in the dealership waiting room, trying to help find a replacement turbo after they were able to determine that we had indeed, blown the turbo. They showed us where parts that should never touch, had touched and worn on each other. They also told us how lucky we were that nothing broke into little pieces and that our engine had ingested nothing but some oil. This is bad, but it could have been much worse. We lined up Jen's parents to come rescue us, as we had nowhere to camp through the holiday, the KOA was booked. Finally, on Friday, we found a turbo, in Memphis, Tennessee! At least we found one, and it would arrive for install the next week. We left the Jeep in Ellensburg and headed home with Jen's parents, defeated.
We knew when the new turbo was supposed to arrive and had lined up for a friend to fly us back to Ellensburg to get the Jeep. The afternoon before we were supposed to return, the shop called to say that the new turbo had different connections than the previous one and wouldn't fit. We scrambled to find the necessary pieces to make this work, with phone calls to the mechanic to get measurements to know what we needed to find. Thankfully, we found the part in Portland and Jen's Dad could modify it to fit our engine, which had been slightly modified to fit into a Jeep. With the modified part in hand, we met our friend at the local air strip and took the hour flight to retrieve our Jeep. The part worked as we had hoped and we were soon enough off again, headed to Bellingham, Washington to look at the used trailer.
We arrived at the shop the next morning, well rested and eager to inspect it. The team at VMI Offroad was helpful and soon had everything on the trailer open for us. We looked it over, inside and out, were given thorough explanations on how each system worked and where everything was located. We came to the conclusion that while the trailer was nice, and the right size, the bed was just too small. For our home over the next two to three years, the bed had to be comfortable and big enough that I don't have my head smashed into the tent, let alone my feet too. We left Bellingham resolute to move forward with the North American Spec (NAS) Conqueror.
Conqueror manufactures the trailer we initially wanted, and over the last year or so have been working with an importer here in the US. This North American importer got back to us just before leaving to South Africa to inspect the first shipment of trailers for the US market. He was willing to set something up where we would pick up the trailer at the factory, in South Africa. We have continued conversations with Conqueror North America and are making arrangements to move forward with getting a North American Spec (NAS) Conqueror trailer.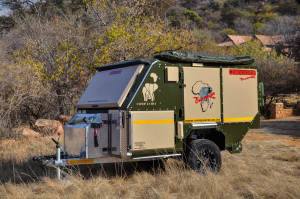 We are often asked when we are going to start our trip. Our answer is that we leave when the rear bumper is done for the Jeep. Over the summer, we have reminded ourselves how glad we are for the wait. It has been fantastic to spend time with family and friends, and have the opportunity to take part in some outdoor activities. Also, if we hadn't been delayed by waiting for the rear bumper system from Pronghorn Overland Gear, we would have blown the turbo in Africa which could have been much more complicated to fix and we wouldn't be on the right track for a trailer that we could bring back into the US, as we have not found an available trailer that meets our strict criteria. All in all, we see it not as a delay, but as having the time to iron out the wrinkles here on our home soil, where solutions are easier to come by than they will be in Africa.