There are many wonderful aspects of Portland that we will miss.  One will be the bounty of deliciousness that has passed across our palates. Portland has become a hotspot of up and coming chefs to test out their skills on a public yearning for something delicious.  We are grateful to have been present during a flurry of creativeness and with chefs who think Portland is the place to be.  We want to share with you some of our favorites.  If you are not acquainted with these fine establishments, we encourage you to give them a try and think of us.
Acadia, a New Orlean Bistro is wonderful Southern and Cajun cuisine.  This was one of the first restaurants that became a "must visit again" for us. They do so many things right; from the Carlton Farms Pork Chop to the Louisiana Drum Fish we kept coming back.  But their Louisiana Barbecue Shrimp is where it's at! The shrimp are always cooked perfectly in a magnificent sauce. Let's talk about the sauce for a minute, even if you are not a fan of shrimp (such as Jared) you will want to dip slices of their bread into this sauce.  It is that amazing!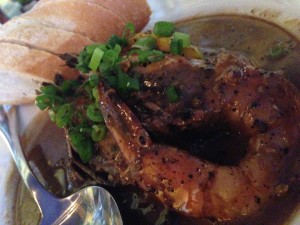 Podnah's Pit Barbecue, a Texas Style BBQ, smokes all their meats slowly with 100% oak hardwood, no charcoal, and no electricity.  When you order a plate, it comes with sauces on the table, not on your meat.  It IS that good!  The Brisket and Ribs are amazing, with a beautiful smoke ring that makes any home smoker jealous! Do yourself a favor and add a side of Green Chili Mac & Cheese, you will not regret it.  On a "side" note, the Green Chili Mac & Cheese is only available during the dinner service.  If you happen to be present when they are offering their in-house made Hot Dog… get it.  If nothing else, ask for it to go and have it for lunch the next day.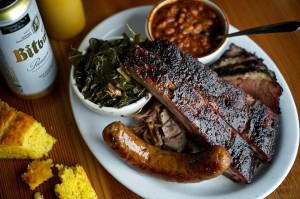 Gravy is top among the breakfast spots.  We are not sure why, but if you live in Portland you want to go out for breakfast and you will wait, sometimes over an hour just for a table; Gravy is no exception.  Hands down their French Toast, made with Challah bread, is the #1 reason to be here and changed our definition for good french toast.  The great thing about the Challah French Toast is that not only is it it's own menu item, it is also available as a side and with a small extra fee can be substituted for other side options in other breakfast dishes.  Other items are quite tasty, such as the Chicken Fried Steak that is truly a steak (seriously, it is an actual cut of meat rather than your normal hamburger steak) and cooked to order! The egg dishes (scrambles or omelets) have quite the extensive options for making your own.  Beware:  these plates are large and though you think you are ordering for one, they will feed an army.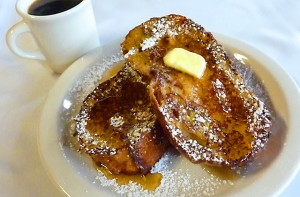 Pok Pok Noi is one of four restaurants in Portland by chef Andy Ricker highlighting foods from Thailand.  We prefer Pok Pok Noi, as it only serves the best from the menu at Pok Pok and the wait is minimal, if at all.  The item to get here is the #12: Muu Paa Kham Waan (Boar Collar).  You must try it!  It is a bit spicy, but served with fresh mustard greens on ice cuts the spice a bit and makes it beautiful.  This may be the dish we miss most on our travels.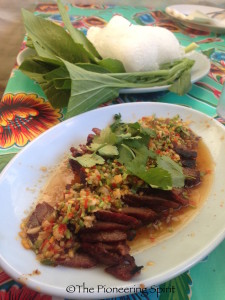 Killer Burger in my opinion is hands down THE BEST burger in Portland and beyond.  They currently have 6 locations in addition to a spot at the Moda Center where sporting and music events are hosted.  ALL of their burgers come with bacon and a side of fries.  It should not be a surprise by the name, but they ONLY serve burgers (and a veggie burger if you are not afraid of your "burger" being grilled in an otherwise beef only establishment).  In Portland fashion, you can get some non-traditional concoctions (for example: Peanut Butter-Pickle-Bacon) or make your own burger from a plethora of additions.  I always "Girlie" size my burger, which means it is smaller than their traditional 1/3 lb. burger. You can also order a delicious local brew to go with your burger.
The Old Gold is a whiskey bar in North Portland (our old neighborhood) with quite a selection.  They make delicious beverages, including an amazing Old Fashioned, no matter which bartender makes it.  They are one of the few bars we have found that make a proper Old Fashioned (WITHOUT soda water).  My personal favorite is to share a bowl of their Hand-Popped Popcorn with Salt & Olive Oil while enjoying one (or two…) of these!  They do have some other tasty foods on their short menu that would include a Kale Salad with a warm bacon dressing, mushrooms and hard boiled egg (Jen's favorite) and they always have a specials board of a sandwich (Jared's favorite).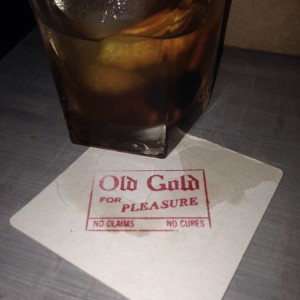 Following is a list of some of our other favorites:
Bollywood Theater: Pork Vindaloo & Paneer Makhani
Stammtisch: Bavarian Pretzel with Obatzda (paprika spiced camembert cheese spread) &     Schweinshaxen (Brined and slow roasted pork shoulder shank with spätzle and red cabbage)
Pambiche: everything
Old Salt Marketplace: Ben's Buttermilk Biscuits & any of their meats from the butcher's case are amazing!
Lardo: Started as a food cart, but now has multiple brick & mortars.  Dirty Lardo Fries (herb & parmesan fries with 'pork scraps') should be the first item you order.  If you prefer no meat, the Lardo Fries are delicious!  Otherwise, they are a sandwich shop of pork.  Order the one that speaks to you, it will be delicious.
Yoko's: This is Jared's favorite sushi place!  Their product is fresh, their staff nimble with a knife and always welcoming and happy to have you there to enjoy a meal.  For those that opt for something other than sushi, they make a mean tempura.  The restaurant is small, does not take reservations and almost always has a wait and is worth it!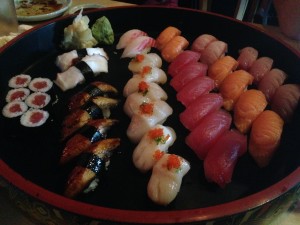 Lucca is a neighborhood Italian restaurant.  We were introduced to this restaurant by some good friends.  They told us 'you need to order one of their pizza's and put a fried egg on it'.  Really?!  They were correct (this coming from the girl who only likes scrambled eggs), you dip your slice into the yolk… it is delicious!  And then I had the Tagliatelle Bolognese.  I aspire to make a sauce like this!
Fire On The Mountain:  They call themselves the 'Portland's Original Wing Joint' but what it really should be is Portland's ONLY Wing Joint.  You can try other wings, but you will always come back to this business.  Their wings are better than those of the Anchor Bar, in Buffalo, NY (birthplace of wings!).  If you aren't a fan of traditional wing sauces, they offer a multitude of other flavors to make any Portlander happy.
Por Que No: The tacos from here remind me of being in the Baja of Mexico and eating from a taco stand along the beach.  Enough said!
What's The Scoop?: Considering the weather we get here in the Portland area (more than our fair share of rain and overcast skies, some would say), there is a surprisingly large amount of boutique ice-cream shops.  What's The Scoop? takes the cake, so to speak.  Their ice-cream is creamy, full of real flavors and pieces AND is frozen with liquid nitrogen.  If you happen to be there while they are making ice-cream, you are in for a treat of liquid nitrogen fog coming out of the mixer.  A very cool experience only made better by delicious flavors of small batch ice-cream.  They have THE best chocolate ice- cream in all of Portland!
The Prodigal Son: It is true, this is not a Portland establishment.  Should you find yourself in Pendleton, Oregon you should stop here.  Pendleton is Jared's hometown and he went to school with Tim & Matthew, the founders of The Prodigal Son.  They brew their own beer, which we have noticed making an appearance on Portland brew lists.  The Chef & Kitchen Manager, Matthew Barnes, has a history with Portland restaurants and it shows in the menu.  I would certainly not be doing my job of telling you of our favorites if I didn't talk about their Bloody Mary.  Have you ever heard of making a Bloody Mary a meal?  I had not… until I came here.  It comes with all the 'regular' garnish and then some!  So much so that it came with a side plate for me to unload it so I could actually drink it!
Portland, we will most certainly miss your culinary prowess!  Though we do not anticipate being residents of this city again, we will most certainly be back for visits with friends, family and deliciousness!