On March 29th, it happened. The event we had anticipated eagerly and anxiously, that would allow us to set in motion other pieces to the puzzle of getting our Africa trip off and rolling. We got the call from Bruiser Conversions that they were ready for us to come get reacquainted with our Jeep! "Alright!!" we responded, maybe a little too enthusiastically. We quickly made flight reservations and lined up our place to stay. Once we landed, we wondered out loud if Dave from Bruiser was going to bring our Jeep to gather us from the airport.
Sure enough, we soon saw our Jeep, or what our Jeep had become. It was striking to see our Jeep with all of the additions and modifications. Taller, tougher, and rumblier are the first words that came to mind. As Dave pulled away, we immediately noticed that the characteristic Diesel engine noise was much quieter inside. Even more so than we expected after riding in a similar conversion in the Portland area. Leaving the stock carpet on the floors is the big difference. We also noticed how well it rode, soaking up pot holes and cracks in the roads so we almost couldn't feel them. It seemed a little top heavy and leaned a lot in the corners, something we weren't so sure about. All in all, we were impressed and super happy to be back in our Jeep.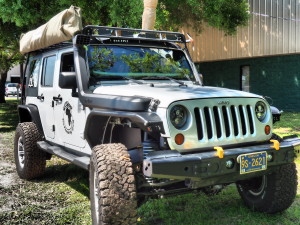 Dave brought us back to the shop and gave us a tour of the Jeep. We popped open the hood and looked over the engine, where he showed us the custom fabricated air box that the guys in the shop built, the first ever. We discussed the raised air intake, or snorkel, and how it fit. He pointed out the compressed air chucks at the front and rear of the Jeep, and told us where the air compressor is located under the rear of the Jeep. We noted the new axles, wheels, and tires. We also made a plan to come by the shop the next day to finalize a couple of things and meet the team that made all this possible. We thanked Dave and headed on our way to find our lodgings for the next couple of days.
We must give a huge thanks to Pradeep and Bev for providing us a place to stay for our time in the Tampa/Clearwater area. We really appreciated their gracious hospitality, and were glad we got to spend some time with them at dinner one night. We were on cloud 9 about getting our Jeep back, and they found a way to make it even nicer. Thank you Pradeep and Bev!
Driving to our "home" and back to the shop over the next couple of days, we got acquainted with the idiosyncrasies of Snort, as this was no longer the same Jeep we had loaded on a truck in Oregon just before Christmas. The Cummins Diesel engine runs at low, really low, RPMs. Coupled with the new axles that are geared for off-roading, its not going to win any races, but it pulls strong. On the street, first gear is not used, period. As it is, when we get a green light, we are shifting out of second and into third by the time we are halfway across the intersection. Third is just a stepping stone to where it really wants to be, 4th gear. For most around town driving, 4th gear is perfect. With enough torque everywhere in the rev band, it will do everything from 25 to 40 in 4th gear. On a highway or freeway, 5th gear is all that is needed. It does peak out at 65 mph, and is really in it's sweet spot at 55 mph.
Our top speed limit is due to two factors. Bruiser set us up with a Holset HX30W turbocharger. This turbo spools up quickly, building boost, and therefore power, at low speeds with little "turbo lag." This will be fantastic at the low speeds we will drive at in Africa, on rough African "roads" and in 4 wheel drive. It is not what we would use if we were going to spend a lot of time driving on American highways and freeways, as it limits engine RPM a bit. The other limiting factor is the Ultimate Dana 60 axles. Dana built these with traditional off-roaders in mind, with a Jeep with a gasoline engine, which hits higher RPMs than a diesel, and bigger tires than our 35″ All Terrains. This means that the low gearing they install on those axles allows for decent road manners for those types of vehicles. With our low spinning Diesel engine and relatively small tires, these axles give great power, but do not allow for much speed. We knew this when we put them on the list, and are not surprised by their performance. We are staying in contact with Bruiser as they work with Dana to find out when the parts will become available to change the axle gearing to improve Snort's top speed and MPG.
We also noticed that, when going around any corner, increasing with speed, Snort leaned a lot. We brought this up when we got to the shop, and the mechanics mentioned that without the rear anti sway bar it felt as though they were going to scrape the mirrors on the ground! We did a little troubleshooting on this and I called the supplier of the lift kit, Metalcloak. They immediately told me to put the stock anti-sway bars back on the Jeep (I had called for a Currie Anti Rock sway bar on the front, and Bruiser had tried to fix the massive body roll with a Currie Anti-Rock on the back). I let them know that we couldn't put the rear anti sway bar back on as we have a secondary tank that prevents the install of the stock bar. They said try it with the Currie, but we may be better with the stock front bar and no rear bar. The Bruiser guys put the stock front bar back on and it was like night and day. With the stock anti-sway bar, which is super beefy, the body roll all but disappeared. The Currie unit is much lighter weight and flexes more, but is not engineered for the heavier diesel engine, let alone a secondary fuel tank full of fuel. That's my fault for not doing my homework when putting together a parts list.
We had heard a noise coming from what we thought was the transmission since we started driving Snort. We isolated the antenna to make sure it wasn't that bumping the snorkel and the guys isolated the trailer hitch from the secondary fuel tank and shimmed a skit plate to make sure the exhaust wasn't vibrating against it. The noise persisted. We took them for a test ride and they confirmed that it was coming from the transmission and that the transmission seems to work perfectly. After a call to the transmission supplier, they changed the transmission oil to a heavier grade and let us know that our new transmission is usually found in large pick-up trucks, where they are placed nearly a foot from the floorboards and have a thick foam insulating blanket around them. In our Jeep, much smaller than the one ton pick-up trucks, the same transmission is only a few inches away from the floor boards and has no insulating blanket. Normal noises that the transmission makes are not heard in most vehicles they come in, but we will hear every rattle and squeak that transmission normally makes. The transmission supplier reassured us that these are normal noises, it's just that not everyone is so lucky as to get to hear them.
The Bruiser mechanics added winch power cables to the front and rear bumper, a disconnect for the engine fan (to prevent fantasy damage during high water crossings), ran wires for a trailer plug, and re-installed the stock rear bumper. We got to hang out, see what they were doing and explore the underside of our Jeep. We also got to see what other projects Bruiser had in the shop. They do a lot of different things to Jeeps in that shop! We got to see a handful of Jeep JKs being converted into crew cab pick-ups. That is an impressive process, where they stretch the frame, then add length to the rear of the frame, chop the cab, and hand fabricate the body and bed of each truck. The team of mechanics at Bruiser are all skilled and talented techs, who take stock Jeeps and create dream vehicles. We both enjoyed the time we spent at the shop immensely. We learned a lot about our Jeep and Jeeps in general.
We got to talk with Jeff, the owner of Bruiser Conversions, for a while, discussing not only our Jeep, but other projects, the start of Bruiser, and his classic CJ6. That Jeep was his first restoration and he is rightfully proud of it. It is beautiful. His nostalgic recollections of courting his wife in that Jeep showed just how personally connected he is to it. He also showed us the first ever Bruiser Diesel JK, one we had seen in numerous YouTube videos. What a treat that it still comes around the shop regularly, and is owned by a good friend of Jeff's.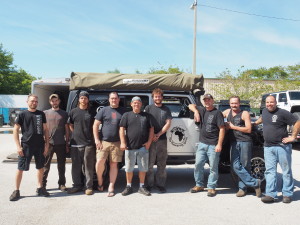 Now that all the items on our list were finished, we had only to get a photo with the Bruiser team and hit the road. Since our next stop was New Orleans, we grabbed our bags at home, said thank you and good bye to Pradeep and Bev, and hit the road. We weren't sure where we would stop that night, but we wanted to get a jump on the long drive ahead of us. We got halfway to Tallahassee and called it a day. In the hotel bar, for a night cap, one of the patrons commented on our Jeep and how he had thought it was a Land Rover because of the diesel noise. We let him know what we had done, but were too tired to get chatty. The next morning, we found a FaceBook message from him! He had seen the logo and website on the side of the Jeep and left us a message. Hopefully your are following along, Peter.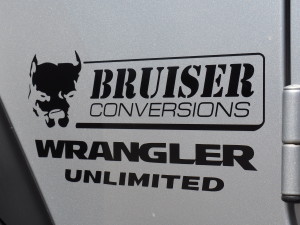 After just over 1000 highway miles, we are still in love. The Metalcloak Overland Elite suspension rides better than the stock suspension. The Cummins 4BT engine is super easy to drive, loaded with torque and smooth around town. For cruising, I just find the RPM I want, and keep the throttle at that point and it just rolls along, over overpasses and down dips, with little driver input. It steers easily and tracks steadily along, only wandering a little in a crosswind. We know we will need to re-gear the axles, hopefully before we ship to Africa. We can make due for our return to Oregon, we just drive more state and US highways, and avoid interstates if we can. We are only a third of the way home, so I will be sure to post another update when we get home, with further impressions from the road.