Recently we got to meet one of our sponsor companies face to face, sharing with them what we plan of doing on the trip, and connect with them more richly than can be done with just Emails and phone calls. On our recent trip to Eastern Oregon to visit family, we were able to get to Pasco, Washington to meet with Richard Bogert and Nick Schmek of Safe Jack. I had come across Safe Jack's innovative extensions for bottle jacks somewhere on the Internet, and reached out to them as I thought that we could help them find customers in the overland travel community through our trip.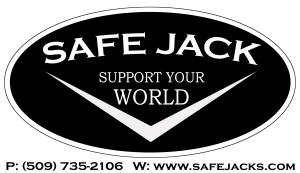 Richard's tour of their production facilities was the best part of the visit for both of us. As he showed us through their plant, and explained all the products they build, Jen's history working with her dad in his fabrication shop shined through,and she knew most of the tools and reveled in the smell of metal work, impressing Richard. He showed us the jack they make for the US military for use in Humvee's. They designed it to meet the criteria of getting it out of the Humvee and having the vehicle jacked up, in position for a wheel change in under 3 minutes! They not only build the whole jack in-house, they have developed custom racks to fit on special metal pallets so as they build components, they are hung in preparation for powder coating, which uses the same racks. Their final assembly line spoke to the Industrial Engineer in me, it was built for efficiency, with fast access racking for smaller components and in-line testing of every jack prior to packaging. Richard showed us their weld room, the line where one person can make hydraulic pumps for jacks at the rate of 2 minutes per pump. We were impressed with everything they can make with 9 employees. We even got to see a prototype of a jack they are making for the new JLTV that will replace the Humvee! They are passionate about quality, innovation, and ultimately, the safety of their customers.
During the tour, Richard introduced us to a couple of other members of the Safe Jack family. I say that because that is what it felt like. We met one guy that was cleaning parts after welding, and Richard said that he also is part of the assembly, and the IT department as well! Richard described the contributions from everyone he introduced us to in glowing terms. We could tell he was proud to work with every one of them. We came away from our visit glad that we get to provide a small window on just where and how their work goes after it leaves them.
We discussed the origins of our trip, how we are progressing through the planning process, and what we can do for them. He then flagged Nick into the meeting and they asked some good questions, getting into the details of where we would go, how we budgeted for the trip, and what we would do to keep safe. We discussed what they could provide and how we thought we would use it. Their expertise with jacks and jack safety were helpful to our planning process, and they custom built a kit for us. The kit includes a 6 ton bottle jack, jack extensions of 3″, 6″, and an adjustable one 8 to 12″, an axle or frame yoke, a flat pad for lifting differentials or oil pan, a jack stand base and adapter (this allows the bottle jack extensions to be used as a jack stand), and a storage bag that keeps it all tidy. They also gave us stabilizer base with mounting plates for a Hi-Lift and bottle jacks. This kit will allow us to safely support our Jeep whenever we have to work on it. Nick even made the cable stays for the Hi-Lift while we started the plant tour with Richard.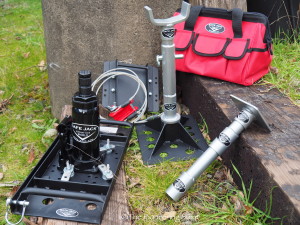 Please check out Safe Jack's website and You Tube channel. As soon as we have had a chance to use the jack extensions, jack stand, and stability base, we will put full reviews here. Keep an eye out on Instagram and FaceBook for photos too.