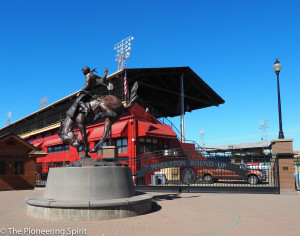 After a week of camping in the Eastern Oregon desert with my family, we headed to Jared's hometown and a week of rodeo with family and friends.  The Pendleton Round-Up has been going strong for over 100 years, due in major part to its amazing community.  They say it is a rodeo like no other.  I am not much of a rodeo connoisseur, but I think it's pretty special.  The Pendleton Round-Up is run by an all volunteer staff of community members, the schools shut down for the week and downtown Pendleton is transformed into blocks of live music playing into the wee hours.  The Confederated Tribes of the Umatilla Indian Reservation (Umatilla, Cayuse, and Walla Walla Indians) host a tribal village with teepees where they live for the week, sell handmade wares of jewelry and beadwork, participate in the rodeo and share their history with the community and its visitors.  Speaking of history, the Happy Canyon Night Show portrays the early history of the West including early American Indian ways of life, the early pioneers seeking a new life in the West and the conflict that arose between these two cultures.  It is a show for all ages, with some serious history mixed with appropriate humor to keep all engaged.  This show is a nightly outdoor performance, rain or shine, with volunteer community members who have committed to a week of nightly performances, not to mention the hours of rehearsal that were spent prior.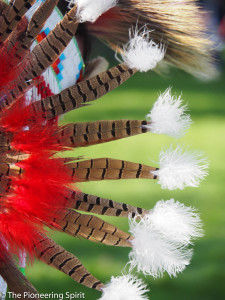 On Friday morning we all gathered for the Westward Ho Parade, a parade that celebrates the history of the West, where no motorized vehicles are allowed.  The Round-Up court, including the Princesses from Happy Canyon, the American Indians participating in the tribal village and other community members and supporters all gather for the parade, mostly on horseback.  There is a pioneer wagon train drawn by oxen, the throwing of candy to the little ones watching the parade and marching bands from surrounding communities.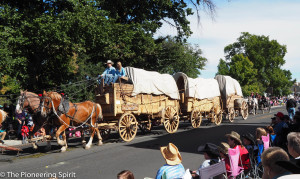 It was a great week of enjoying Round-Up, cocktail parties and BBQ's connecting with friends from Jared's childhood and family friends.